Farthest to the west of Norway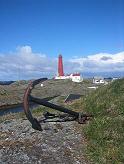 Utvær is the most westerly island in Norway where there is settlement. Utvær is part of the group of islands where Steinsøy is located, the westernmost point in Norway. Her you can find spectacular scenery. On a sunny day the ocean may be completely calm, as far as the eye can see. You can also experience temperamental weather including strong winds and trashing seas. You are certainly guaranteed a unique experience.

Farthest to the west of Norway (Lengstvest) is operated by Torald Storøy. He grew up on Utvær, and he is the owner of these inlands inherited from his parents. His aim is to showcase the environment, culture, and history that has existed here for centuries. He provides you with accommodation and guiding on the island. There are also great opportunities to experience fishing and bird-watching.
Please contact us if you wish to visit us on the island.